The global trade in illegal human organs was worth between US$840 million and US$1.7 billion last year, according to a study released by Global Financial Integrity in March 2017.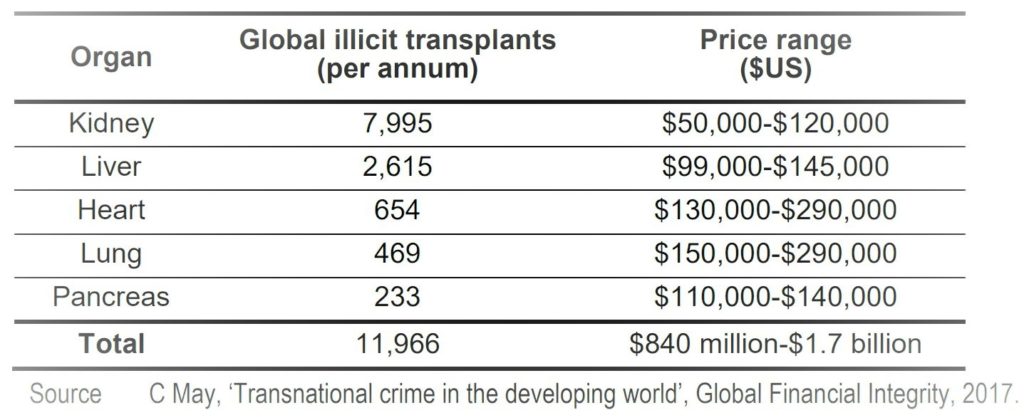 Up to 10% of all kidney transplants done worldwide may now involve commercially-traded organs, notes the World Health Organization (WHO). A WHO study in 2006 reported that the price of an illegal kidney transplant ranged from US$70,000 to to US$160,000.
In Nov 2018, the Human Rights Sub-Committee under the Australian House of Representatives announced the results of its study. "This report examines the global prevalence of human organ trafficking and the scope of Australian participation within this illicit trade," the Committee's Chair, MP Kevin Andrews noted. "The report further considers international frameworks to combat organ trafficking and organ transplant tourism and specifically recommends that Australia sign and ratify the Council of Europe Convention against Trafficking in Human Organs."
The crux of the problem? The demand for donor organs outstrips supply. Around 1,400 Australians are currently waitlisted for a transplant. A further 11,000 are on dialysis, many of whom would benefit from a kidney transplant. "This shortfall is common to many countries, and it is this gap between the number of people needing organ transplants of all descriptions and the limited supply of freely donated organs, made available through compassion and altruism, that has generated a black-market trade."
During the course of the Sub-Committee's inquiry however, it quickly became clear, especially through input from expert witnesses, that human organ trafficking is a broad international problem encompassing many countries worldwide. "The organ trade has evolved and continues to evolve under the influence of forces of demand and supply as well as changes in national and international regulation and law enforcement," the report notes.
Prof Jeremy Chapman AC, a top renal physician and past-president of the Transplantation Society told the Committee that "countries where commercial transplantation is occurring (include) Egypt, Turkey, Pakistan, possibly Lebanon, India, Sri Lanka, Singapore, Cambodia, Vietnam, Laos, China, Mexico and Venezuela … they are mostly typified by having high inequality scores, by having low economic human development indicators and by having a large source of impoverished individuals on whom to prey for donors."
Prof Chapman is Medical Director at Westmead Hospital in Sydney. He was conferred the Companion of the Order of Australia in honor of his work in organ transplants. The report does not state Prof Chapman's sources of his data.
In the introduction to the report, the Committee Chair Mr Andrews notes that "judgments made about the extent and geographical focus of organ trafficking and transplant tourism a decade or more ago may have limited validity in relation to present trends and circumstances, and this report demonstrates that without the collection of accurate data, solutions will be difficult to create."